早就听说AI可以用来写文章了,很多媒体吹得神乎其神,自己也心痒痒想试试效果。看看能不能用于英文内容营销,做站群引流。
然后我就去买了年付版的Article Forge ,发现生成的文章不如人意。
说说缺点:
会生成与标题无关的内容,简直不知所云
如果给的关键词多,内容会更紧密些,但还是流于表面,讲不到有用的内容。
Article Forge 的使用方法很简单,就是给出标题,再输入与内容有关的核心关键词 (不能超过五个) 。
下面给出三篇文章示例: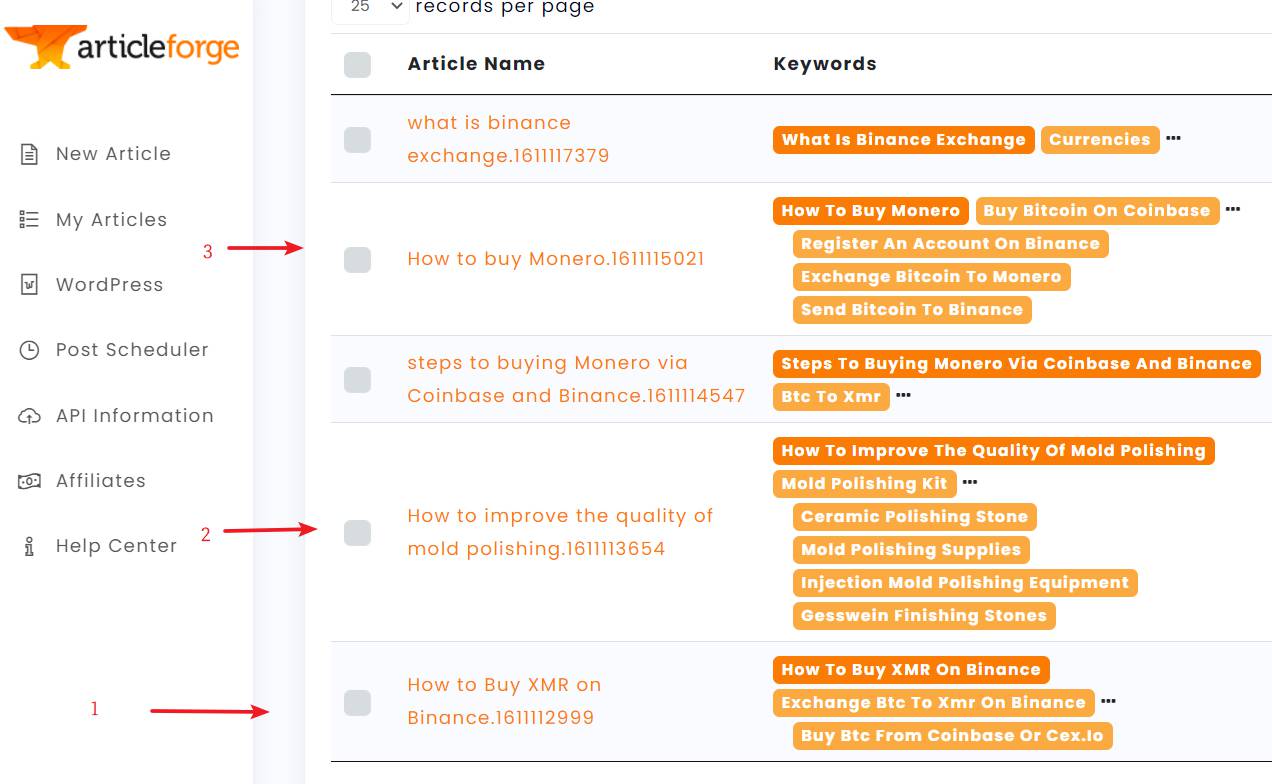 第一篇标题 : How To Buy XMR On Binance
关键词: Buy Btc From Coinbase Or Cex.Io   和  Exchange Btc To Xmr On Binance
生成的文章内容如下(选的是250 words):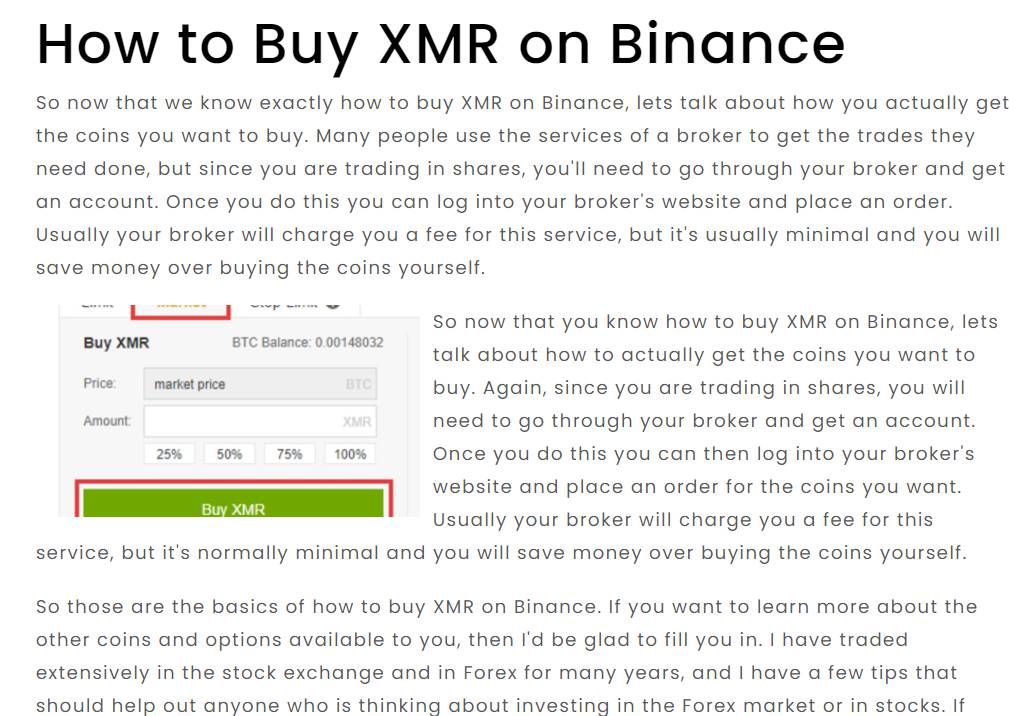 这一篇很狗血,三段重复且不知所云的内容。
第二篇文章标题 : How To Improve The Quality Of Mold Polishing
关键词: Mold Polishing Kit ,Ceramic Polishing Stone ,Mold Polishing Supplies , Injection Mold Polishing Equipment ,Gesswein Finishing Stones
生成的文章内容如下:
It is a well known fact that using good molding materials and techniques is essential in order to have flawless results. Whether you are working on a new project or remodeling an existing space, the type of tools and supplies that you will be required to have can be very important. Some materials are more workable than others and you certainly want to make sure you get the most out of your efforts when using different types of supplies and materials. The type of procedure you wish to perform plays a huge part in the choices you need to make and this is why it's so important to choose the right supplies for the job. In this article I will look at some of the things that are needed in order to improve the quality of your moldings.
Moldings are used in manufacturing and repair of metal and plastic products. This means that you need to ensure that you buy the best materials possible so that the finished product is of the highest quality. One way you can improve the quality of the molding that you are using is to ensure that you use the right type of polishing material. There are many different materials that are used for this process and this includes diamond grinding stone, fiberglass cutting stone, acrylic crystals and even marble.
When using acrylic and fiberglass gesswein finishing stones, you will notice that they create a smoother surface. This is because these types of materials are much smoother than other materials. When you use diamond grinding stones you will notice that they produce a rougher surface but this is because diamonds are much harder than other materials. If you are unsure which one is the best suited for the job then you should consider using gesswein finishing stones. These stones are extremely hard and can create the best polished surface by polishing products that are made from metal or plastic.
When looking at different polishes you should ensure that you read the instructions carefully. Some products will work better with certain products. When you use them always test the product out on a small area of the product to ensure that the product works well. It is also important to ensure that you use the right type of polish with the product.
If you are looking to use acrylic and fiberglass gesswein finishing stones then you should ensure that you first remove the loose particles of dirt from the surface of the stones. You should then use a soft cloth to gently wipe the surface and then give the stones a few quick squeezes so that all loose particles are removed. The gesswein finishing stones will then need to dry overnight. This process can take place in your bathtub.
How to improve the quality of moldings is also useful if you are looking to work on windowsills, table tops and mantelpieces. You should make sure that you clean the surface very well before using any polishes to improve the finish. You should not use any wax or acrylic spray as these will affect the finish.
The last tip on how to improve the quality of molding is to use products that are made from natural materials. These products are much easier to work with. You will also find them to be more affordable. Natural products are especially useful if you are working with an old historic building. Many products that are made from natural materials can be found at craft stores.
If you would like to learn more on how to improve the quality of molding you should speak to someone at your local art store. There they will be happy to show you all of the different types of polishes and tools that can be used to improve the finish on the moldings. They will also be happy to answer any questions that you have about using these products. Some people like to purchase products that are already completed, but if you are working on a historical building or something similar, it may be wise to purchase the moldings one piece at a time. This will allow you to get a feel for the finish and to see how it works.
第三篇文章标题: How To Buy Monero
关键词: Buy Bitcoin On Coinbase , Register An Account On Binance , Send Bitcoin To Binance,Exchange Bitcoin To Monero
生成的文章内容如下: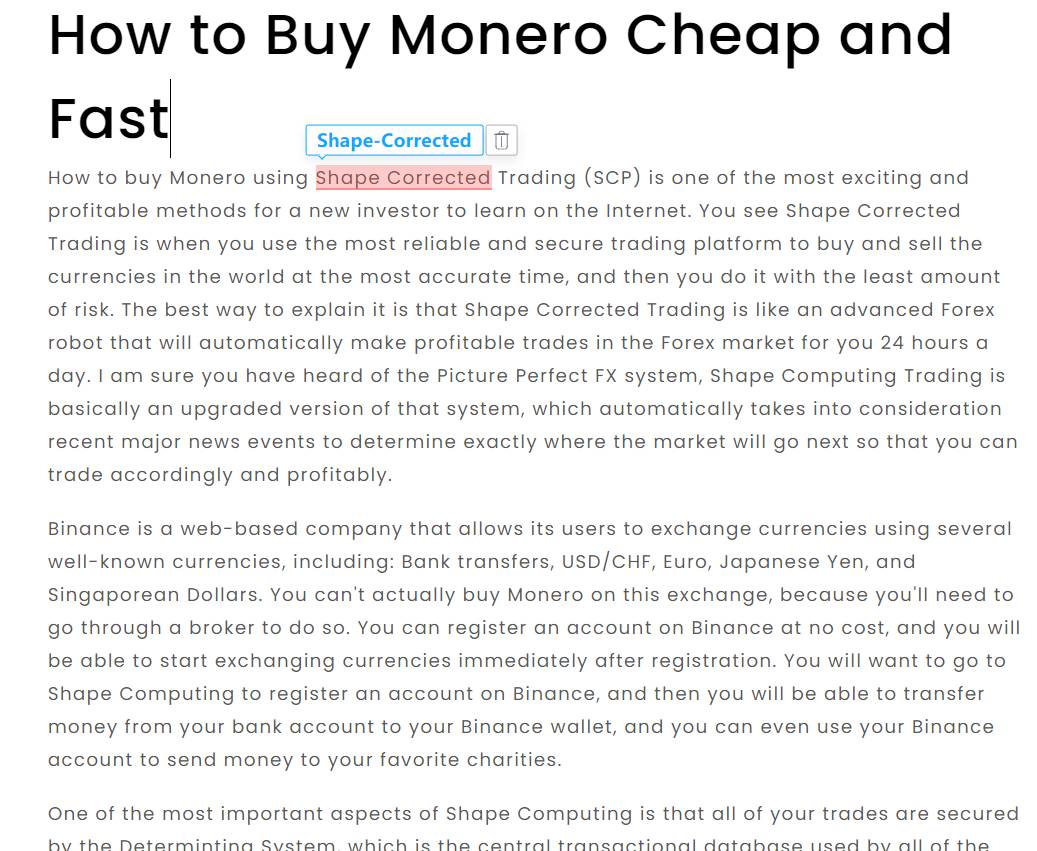 这篇我给的四个关键词就是完整步骤,但是生成的文章第一段就是瞎扯毫无关联,第二段有关联却只是Binance的介绍,后面的又是瞎扯,整篇文章与我给的关键词相差甚远。